Patient Stories
Kirsty Birney

Kirsty Birney
In 2010 I had my first miscarriage I thought it was my fault. I was 25, just married and hadn't been eating the best, was drinking most weekends and had a busy life, so I buried all my feelings of guilt and hurt, put on a smile and got on with life.
In December 2014 I fell pregnant again and we were overjoyed. But, unfortunately, our happiness turned to sorrow when on Boxing Day, at ten weeks pregnant, it was confirmed I had lost our baby. The hurt was unbearable and the guilt terrible. I felt I had let my husband down and was a failure and not worthy to be a mum.
Somehow we found the strength to try again and, in May 2015, we cautiously let ourselves be happy when we had another positive pregnancy test; however at eight weeks pregnant our baby was lost again.
At this point my GP referred me for further investigations and, following blood results, I tested positive for antiphospholipid antibodies, so the consultant put a plan in place for my next pregnancy. However, by now I was so hurt from our losses we had decided we couldn't try again because I didn't think I had the strength to cope if we lost another baby; we'd decided we were happy just the two of us and our dog.
Then the unthinkable happened on 2nd January 2016: I discovered I was pregnant!!! Sheer panic set in, I couldn't lose this baby!
I started on my aspirin and then, at seven weeks pregnant, we had the best scan of our lives: our baby was doing well and we saw his heart beating strongly! I started on my daily heparin injections and continued this until I was 32 weeks.
Unfortunately, at this point, I developed appendicitis and following surgery our precious baby boy Conall John Birney was born weighing just 3lbs9oz - while he was small he was perfect! After three weeks in a special care baby unit our little boy was home with his mummy and daddy, and we can't remember life without him!
Conall has brought such joy and love to our lives, and he has also given me the strength of hope that miracles do happen!
He has also given me the strength to talk about my other babies, and while I still hurt that I never held them or got to tell them how much I love them, I smile when I think they are in heaven looking over all of us. Also, without them I would never have had bloods done and discovered that I had antiphospholipid antibodies; therefore, Conall would not have been here.
Throughout my experience I felt hopeless at times, everything seemed so negative, so it would be great that people reading my story can find some hope. It's a hard road but totally worth it!!!
Caroline Jackson
Caroline Jackson
I had two early miscarriages in 2008 after trying for a baby for over a year. One was in May and one in September at around seven weeks. I was under the care of fertility doctors, as I had also been diagnosed with polycystic ovaries. I had been on fertility drugs during the time I had the miscarriages, and continued to take them afterwards to aid my fertility.
Unfortunately, one year later and I had had no further pregnancies. I know it is an awful thing to say, but I was desperate to get pregnant again so I would lose the baby and then I could get referred for more tests but was also terrified of being pregnant again in case I lost it, if that makes any sense?
The doctors I saw in the early pregnancy unit, when they told me I had miscarried, said they could not refer me for further tests until I had had three consecutive miscarriages. They explained that the miscarriages I had were 'just one of those things', and that I had just as much chance of having a normal pregnancy afterwards as anybody else.
This made me feel very frustrated, as my husband and I felt so alone and helpless. Friends and family around us were getting pregnant easily and were having healthy babies, but we seemed unable to. Only very close family knew of our predicament, and I was very glad we had not told anyone else of the pregnancies as telling my Mum and Dad I had lost them was one of the hardest things I have had to do.
When I saw my fertility doctor, he arranged for me to have some blood tests and also booked me in for ovarian drilling to boost my fertility. The first blood test results came back saying I might have APS, but the test needed to be repeated in six weeks. I had the ovarian drilling operation in October 2009 and in November 2009 was diagnosed with APS following the second positive blood test.
I found out I was pregnant in December 2009, and immediately started on daily heparin injections, HCG injections (twice a week), taking baby aspirin daily and had to wear thigh high compression stockings (these were great over the winter but not during the summer!).
I think I spent the first four months in a complete panic that I would lose the baby. Even after the scans when they could show me the baby's strong heartbeat and told me all was progressing well, I was waiting for it to all go wrong. I used to be terrified to go for the scan: I thought they would say "I am sorry Mrs Jackson, there is no heartbeat" like they did when I had the scan after I miscarried. Our close family did not want to get too excited, no-one dared. We decided not to find out whether we were having a boy or a girl, that way we would not get too attached if something went wrong.
The doctors told me that although I was over the worst part of the pregnancy (the first three months) that I 'was not out of the woods yet' as there was a risk of me developing a blood clot and the baby's growth could be affected. The pregnancy was monitored closely and I was scanned every four weeks. Once I hit four months we decided to tell everyone, if they had not already guessed as I was starting to show. I had no problems at all during the pregnancy my blood pressure was very stable.
It was a huge relief to everyone when Hayden, was born on Friday 13th of August 2010 (a lucky day for us!). I continued with the heparin injections and wearing of the compression stockings for six weeks after his birth. I am now on no medication whatsoever and loving every minute of motherhood. It took us a long time to get our son, but he was so worth the wait.
We also added to our family last year, when our healthy baby girl, Cerys, was born on 3rd April 2013. As soon as I found out I was pregnant, I started the heparin injections again. The pregnancy went really well, although she decided to put in an earlier appearance and arrived five weeks early. Apart from a six day stay in hospital, mainly because Cerys needed phototherapy treatment for jaundice, she was very healthy. Our family is now complete thanks to the daily heparin injections.
Rosie Kamara

Rosie Kamara
When I was eight years old, I suffered with excessive joint pain which was regularly put down to growing pains. However, I was eventually diagnosed with arthritis around the age of ten.
Between the ages of 12 to13, I started having regular nose bleeds that became more and more aggressive. I was hospitalized when I had a 14-hour nose bleed that almost killed me because my platelet count had dropped down to just one (the average platelet count should be between 150-250).
This led to me being diagnosed with ITP - idiopathic thrombocytopenic purpura at the age of 14.
Due to the antibodies fighting away my platelet, I was then diagnosed with lupus and my first haematologist (who wasn't that good) suggested he wanted to remove my spleen and informed me that I would never have children.
Said haematologist put me on a steroid medication when I was around 18 to encourage my platelet count to increase and, from the ages of between 14-18, I was hospitalised regularly. My family told me I had a platelet transfusion but I can remember this.
When I was 19, I was at home alone in the shower when I suffered a stroke. I lost the ability to talk, and fell in and out of euphoria and terror whilst the stroke took hold over the course of two hours.
I didn't know what was happening, but the stroke was confirmed two weeks later with an MRI Scan and I was put onto aspirin immediately.
In the following two months I was referred to a new rheumatologist (for the arthritis), and he thought I was suffering with a condition called APS – something that I had never heard of. He gave me a leaflet and a lot of the symptoms seemed to fit, but it was confusing as for years I had been told for certain that I suffered from lupus.
After taking aspirin for a while, the hematologist decided to try me with warfarin. Whilst taking this I hadn't become 'therapeutic' and then discovered I was pregnant.
I was instantly referred to a new specialised hematologist to deal with the APS and pregnancy hand-in-hand. I was put on 60mg of heparin (Clexane) injections twice daily that I administered myself. The pregnancy was natural and successful, though terrifying throughout. My beautiful daughter is now six years old.
After having my daughter, my new hematologist decided to give warfarin another shot but, unfortunately, my body didn't respond to the drug so I was swiftly put back onto daily heparin injections.
After three years when rivaroxaban was launched, I encouraged my hematologist to let me try this medication. He agreed, even though he didn't like the idea as it is not tested like warfarin and also doesn't have an antidote, although this is being worked on.
Within a month and a half of taking it I was put back onto heparin injections for the third time as I wasn't getting enough blood flow to my brain, and the effect if had on my memory were terrible and dangerous. I'd regularly forget where I was or how to get somewhere – eg. to my daughter's nursery to collect her.
I tried warfarin (alongside the heparin) again from January 2017 and finally became therapeutic after four months of numerous blood tests a week and extensive monitoring.
With becoming therapeutic I was able to stop injecting the heparin and continue just with the warfarin. However, within two weeks I was back in a 'danger zone' and had to restart the heparin.
I am now 27 and still taking heparin injections daily but, in the last year, I have noticed new symptoms have started.
Danny Lloyd

Danny Lloyd
I'm 44-years old and, after what I've been through, my mantra is now:
"The whole future lies in uncertainty; live immediately".
I really got into sport from the age of fourteen when I played rugby in a school tournament. This led to an interest in weight training, and I even won third place in the Mr West Britain Contest in 1995. I had my sights set on more competitions when I was stopped in my tracks by APS.
I had been experiencing nondescript and odd symptoms but, after my diagnosis, it was discovered that I had suffered mini-strokes and kidney damage. I was put on anticoagulants but still had fatigue and muscle weakness that left me open to muscle tears, bruises and cuts.
This put a stop to the bodybuilding, but I turned my attention to Jujitsu and later Judo. However, this wasn't really the best sport for me as the anticoagulant treatment meant that I was very prone to injuries such as muscle tears, cuts and bruises. Instead, I focused on road cycling and the benefits of yoga.
Christmas 2012 was a life-changing period for me. Following a couple of very difficult years emotionally, I came down with what I thought was a bug and things went from bad to worse.
I went to bed on New Year's Eve, woke around 5am, only to collapse with no co-ordination when I tried to get up. I remember an ambulance being called, being carried downstairs by the ambulance crew but, from then on, I have two to three months of odd memories: other patients, different wards, false memories and bits of information other people have told me.
I had developed the worst-case scenario for anyone with APS: catastrophic APS (CAPS). During this time, I was frequently moved between a neurological ward, a high dependency unit, intensive care and a neighbouring specialist hospital. At the time, the mortality rate for CAPS was 50%.
I suffered a stroke, kidney damage due to haemorrhage, adrenal haemorrhage which caused me to become adrenally insufficient (Addison's disease) as well as the neurological infections of hydrocephalus and ventriculitis which both caused further brain damage.
Initially, day-to-day things became impossible and often left me terrified. I was unable to do anything for myself, and had to re-learn things I had taken for granted since childhood such as speaking and sitting up.
My progression in rehab was slow and frustrating, but I drew on my persistent nature and started swimming initially. I felt safer when swimming as I was constantly in fear of falling due to my balance being impaired. I then worked onto a treadmill and exercise bike.
My support worker set me the goal of attending a spinning class within a few months. My balance was, and still is, a massive issue but I managed to hit the goal we set and, two years on, we both still attend the weekly spin session.
However, the most significant turning point in my rehab was my discovery of Tai Chi. I was far from impressed with the idea to begin with though and remember saying: "no way was I doing exercise for old people!" After ten minutes, I was impressed and hooked – I'd found my calling at last. The progress and difference in my day-to-day ability is massive.
I believe that being physically active has given me back a life worth living. During my hospitalisation I complained all the time that I'd looked after myself, ate well, kept fit yet this had happened to me, so what was the point. Yet, I remember a nurse, probably sick of my complaining, saying "ever thought you might not still be here if you hadn't?"
I am now a believer in Stoicism and my personal philosophy is that the difficulties we overcome do, in fact, build and demonstrate a person's character. We each have power over our own mind, but not outside events; we must simply identify and separate matters into those which are outside of our control and those which we have choice over.
I realise that if I can survive what I did and live the rewarding full life I now do, despite my difficulties, I can do pretty much anything.
Eddie Mackay

Eddie Mackay
My name is Edward Mackay, Eddie. In 2004 I turned thirty years of age. I was a fit and healthy non-drinker/non-smoker who worked for the local wildlife trust. In December of that year I was bedridden and diagnosed with flu. I don't remember much of this as the fatigue, the worst limb pain I had ever experienced and the difficulty concentrating because of the headaches makes this period a bit hazy for me. After about a week I was back on my feet but on the evening of 27th January 2005, over the course of one and a half hours, my left leg went from being a bit sore to landing me in A&E with a full leg DVT.
A few days later I was given a diagnosis of antiphospholipid syndrome.
For the first six years, having no real understanding just what this diagnosis meant, I complained about headaches, visual disturbances, difficulties concentrating and remembering things, my left leg that suffered the extensive DVT was still swelling and causing pain and a general ache and fatigue that seems to run from head to toe. During this time after seeing many consultants and getting no real answers, I discovered the Hughes Syndrome Foundation website. The information helped me focus my questions to my GP, and this in turn got me referred to a consultant with knowledge of Hughes syndrome. She addressed my concerns, ruling out any other underlying causes to my symptoms.
The difficulties I experience still make the simplest day to day tasks difficult most days and impossible on others. A twist to my story is my mother, in her early 70s, was diagnosed with Hughes syndrome in June of this year (2014) and, despite the family link and the near identical symptoms, it still took over two months for her to be tested for Hughes syndrome resulting in serious clotting in her lungs and head. She is slowly coming to terms with the difficulties that she has watched me go through for the past nine and a half years, experiencing them herself now.
Hopefully my story and that of my mother can help a little and encourage anyone, male or female, to get tested as soon as possible if they experience any of the symptoms that can relate to APS.
Anne Newman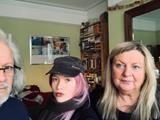 I have had migraines since childhood, although they were not considered a particular problem until recognised as a feature of APS much later when I was finally diagnosed twenty years ago. As I wasn't believed during adolescence, I felt humiliated and confused so I did all I could to deny or hide my visual disturbances, until I couldn't manage in the classroom and had to go to the 'sick bay' with painful headaches.
In my twenties, the migraines seemed to sub-side and I had no reason to suspect I should be concerned about pregnancy, until I attended an ante natal class. When I said to the group that I didn't feel my baby moving much, the midwife taking the class commented "oh" and looked a little concerned, but offered no advice.
Shortly after, I was admitted to hospital, diagnosed with severe pre-eclampsia and my daughter was born pre- term at the Whittington in London at six months gestation, under general anaesthetic. She was growth restricted and weighed 2lbs and 2ozs. I could hold her in one hand as her length was from my middle fingertip to an inch down my wrist. She was cared for in the neonatal unit and discharged six weeks later.
The following year, having adjusted to parenthood, my husband and I thought about a sibling for our daughter and were referred to a high-risk pregnancy clinic. A consultant haematologist was present and having considered my symptoms she told me that she couldn't discount further pregnancy complications and asked us if we were sure we wanted to try again. As the risk to my daughter and I had been so high, we decided against any more birth children and thought us fortunate to have a child at all. The consultant took me on as a patient at her clinic and, having formally diagnosed me with APS, prescribed aspirin. It seemed so simple given all the previous difficulties we had experienced as a family.
I had a TIA three years later, which then caused a seizure and I was subsequently prescribed warfarin and anticonvulsants to address the ongoing damage from the clot. My teeth broke as a result of the seizure and were fixed and now look better than the originals! Unfortunately, I was taken off the road which was really annoying, but safer for me and anyone else driving.
In the following years we decided as a family to begin an adoption assessment, but were advised we would most likely be refused on grounds of my ill health. Rather than challenge this, regretfully we withdrew as we weren't as well informed as now. Truthfully, I wanted us all to avoid disappointment, particularly our daughter who would have been involved in the process and was growing up.
In the past few years the visual disturbances recurred and I was diagnosed with partial focus seizures. Once again, I was unable to drive for a year, but following a change in my treatment and enough tablets to make me rattle, I'm back driving again. I have recently celebrated my 58th birthday and our daughter is now 23, healthy and our joy.
Sangi Patel

Sangi Patel
I was rushed into St Thomas' Hospital in London with suspected meningitis in November 2002 and discharged five days later with high dose pain relief. I was twenty years old and had to take time off from my university course as I simply could not function.
My symptoms were classic of meningitis with extreme photophobia, a very stiff neck, big rash and I honestly thought my head was going to explode!
Fortunately, Dr Graham Hughes was shown my scans as the medical staff were perplexed and, eventually, I was called into the Lupus Unit at St Thomas' in February 2003 was tested, then diagnosed with APS.
Initially I was trialled on Plavix (clopidogrel), aspirin and Clexane (heparin) but, in 2004, I was eventually put onto warfarin.
It was all very difficult to comprehend and, as I didn't know anything about APS at the time, part of me thought I would suddenly wake up not having it one day.
I continued to develop other medical conditions that now means I am on lifelong medication for a few things.
Day to day it does not bother me but, over the ten years, I have found it incredibly difficult to maintain my INR. Admittedly some of the reasons are my own fault and being complacent with the importance and gravity of risk the condition holds. When you have been on something for so long you go through phases of denial, or laziness, which isn't acceptable but realistic.
It has been difficult and especially knowing I want a baby, it does make me worry despite all the amazing successful pregnancies.
Some treatments or medications I cannot have for managing my other medical conditions because I have to take warfarin, and trying to explain to people (non medical) about why etc can get quite tedious although I do appreciate people try and help. After a while one can become blasé and it's not until my INR is bad and my symptoms are troublesome that it rings home how much attention I do need to pay.
Despite these difficulties, I want other people with APS to know that they can go all guns blazing, full force ahead with their dreams and their life. I had a very tough time when I was diagnosed, but have achieved some amazing things in my life despite having APS.
I am pleased to say that I am still the only Asian female to lead a 1st Premier League Football Club – there is a recent article here, I am also now an internationally published author, and I've just been signed by a Casting Agency called BInspired.
I hope I can be of some inspiration to other people who have just been diagnosed.
Ann Sumra
Ann Sumra
I am a 62 year old female and am a paediatric physiotherapist by profession and, up until my late 40s, was very active and fit.
About fifteen years ago I had an incident with a screamingly bad headache in the night. I took pain killers and went back to sleep. The next morning I felt strange on my right side, but my husband said I looked fine. I went to work, but my balance and coordination were poor.
On admission to hospital, nothing was found, although my right side has never felt quite right since. With hindsight, the doctors think I had a clot in my brain stem. I was working three part time jobs at the time, and was advised to give one up, which I did. I continued working at a school for children with moderate learning difficulties. I always felt fatigued, and had joint and muscle pains, but no one knew why, and all my test results were negative.
I just thought it was working and having a family. My balance and coordination were still not very good, and some days I found my memory was poor.
In June 2004, aged 54, the top of my right first finger looked like it had an infection. I ignored it until a couple of days later it started spreading. I went to the minor injuries unit, and was horrified to be told that it was a blood clot. A trip to casualty ensued, and a hospital stay on clot busting drugs.
Tests came back showing that I had a positive lupus anticoagulant, which is one of the tests for Hughes syndrome. I was put on the warfarin at a low dose, but it did not improve my symptoms. I was gradually getting what can only be described as 'brain fog', loss of memory, and terrible fatigue. Things on the family front were difficult at this time, and I found taking warfarin, the regular tests, and the risk of bleeding too much to deal with. My consultant let me come off the medication, on the proviso that I went straight back on if I had any more symptoms of a stroke or a clot.
I continued to work but it was a struggle. I was unable to process or write reports, could not remember things from day to day, could not add up and could not think how to set targets. I had problems on public transport and driving. I found it hard to remember where I was going, why and how to get there. When I was talking or writing about a child patient I could not remember them. I had to get my husband to add up my bills each month. I said to him, amid the tears, either I am going mad, or I have early onset Alzheimers. The fatigue was also terrible. I used to have to lie on the floor between treating the children, and often struggled to walk home. No one could help, although the doctors made sympathetic noises.
Finally, in July 2005, I made the decision to quit work, as it was not fair to anyone. Being self employed, there was no fall back or finances available, so the stress didn't help. I could not physically continue sports such as tennis etc, and sometimes found it hard even to carry on a conversation. No one said Alzheimers, but I was very frightened and got depressed. I lost faith in myself. Counselling helped. My family were great, but it didn't change the situation.
In September 2006, I started getting visual symptoms, and returned to my consultant, who insisted I started warfarin again. Each person on warfarin has a personal target known as INR. This is a measure of the thickness of the blood. Generally targets are quite low, because warfarin in excess can cause bleeding. When a person first starts warfarin they are often given heparin as well, which acts more quickly to raise blood levels. I went high, up to 4, by accident, and it was like a miracle. I woke up one morning feeling normal again. The symptoms of brain fog, fatigue, memory loss, and joint and muscle pains were really reduced. My consultant agreed that I could have a higher target of 4, which is what I now try to achieve.
But it is still a roller coaster ride trying to manage it. It can change from day to day, dependent on things like stress levels, diet, sleep, exercise, and all different things. The hardest thing I find to cope with is the unpredictability. Some days my mind is as sharp as a razor, and other days it is like mush for no apparent reason. But at least now I am learning to pace myself and watch my diet, I have days when I feel normal again. These days are getting more frequent, and it was such a relief when I discovered that I did not have Altzheimers.
The tests for Hughes syndrome are very simple and inexpensive. Three blood tests will show the presence of the antibodies, and it can be requested in the first instance by a GP. I am so glad that I had a young registrar who knew what to test for, and feel very blessed that I can live a relatively normal life.
I hope my story will help others who may be showing these symptoms at a relatively young age. Please go and be tested, because if you have Hughes syndrome you can really be helped.
Vicky Tabrett

Vicky Tabrett
In July 2011, I had just completed my first year of university, it was the summer before I started my second year; I was in Ibiza on a girly holiday with my friends, we were having pre- drinks in our apartment, a few homemade cocktails before we headed out for the night.
I went to the bathroom and upon my return to the room I suddenly went very, very hot, my face was burning, then I started laughing hysterically, my friends kept asking me " Vicky come on what's funny, let us in on the joke" but I couldn't because I couldn't speak. Then they realised that something was wrong. I felt my face drop and it felt like my body just got very heavy, very suddenly. I couldn't speak.
My friends had no idea what was going on, they called an emergency doctor who came and gave me an allergy shot in case it was an allergic reaction to something, he didn't even check me over… everyone decided that if I wasn't better by the morning then we were to go to the local hospital.
The following morning, after my friends took it in turns to watch me through the night, we walked to the local medical centre, this was when I first realised that I couldn't walk, I was literally dragging my leg behind me. At breakfast I couldn't hold a knife and fork, my right hand was completely sealed closed and numb. I was terrified and exhausted, and I couldn't even speak to convey my fear.
At the medical centre the doctor asked my friends what had happened and they explained. The doctor didn't even check me over, just stated it was probably alcohol poisoning, gave me vitamin B tablets, camomile tea and sent me on my way. I carried on my holiday for 3 more days.
Obviously by now all of my family had been informed, so when I got back to the UK, I was taken to the hospital pretty much as soon as I returned. They admitted me straight away for a full check up and tests. This was when they diagnosed an ischemic stroke on the left hand side of my brain, they noted numerous scars from TIAs on both sides of the brain. Blood tests revealed I had Primary antiphospholipid syndrome.
I was put onto warfarin right away and admitted into the Stroke ward. I was the youngest person there by about 50 years. I was miserable. My stroke rehab started right away as did my speech therapy. I was hospitalised for over a month.
I could've given up, wallowed in self-pity. 'Why me? Why has this happened to me?', but I chose not to, I carried on. I went back to university in the September, their amazing disability specialists put numerous programs in place so that I had assistance to get me through each lecture, including a specialist laptop with programs meaning I didn't have to type my essays- talk type etc. It was amazing, because of all of this support I managed to graduate with my whole class in 2013.
I continued to have all of my stroke rehab, I had in total about 18 months of physical therapy and about 6-8 months of speech therapy. I left with some control of my right hand and able to walk, on bad days I still walk with a stick. I still have absolutely no feeling in the right hand side of my body, but you find a way to adapt, you have to. In terms of side effects of APS, I find that they are combined with the effects from the stroke.
The fatigue is crippling, I find having a set routine helps, it means I can hold down a part time job, which is amazing and my company are very accommodating to my reasonable adjustments.
I have zero vitamin B, so I have to inject myself every 3 months with a concentrated dose. I also take iron tablets, this combination I find helps but it's not a cure. There are days when I cannot get out of bed, I'm just exhausted, it's just how it is, I have learned to cope.
Migraines are something else that I have to combat, there's nothing I have found that helps other than, 4head stick, a cooling migraine strip and sleep. The more stressed I get, the more frequent they are.
Raynaud's phenomenon, this I actually had numerous years before, I first noticed this in 2008, my hands were always cold, then my feet and face. I was prescribed medicine, but I found it didn't help at all, it's still agony when the blood returns but again something I cope with. I wear gloves to bed in the winter.
Livedo reticularis, this is the mottled net rash, I've not found this to be an issue other than the fact it looks a bit grim, I find it becomes more prominent with temperature changes.
Brain fog, confusion, memory loss, I get very confused a lot of the time and my memory is atrocious, I have to write everything down all the time. Photographs help but even then, I wish I had the organic memories.
So in the grand scheme of things I manage my life every day the best way I can.
I fell in love and met the man who's now my husband in my second year of university, he never knew me before the stroke, so he understands everything, every quirk-and completely supports me, yes we have challenging days but what marriage doesn't?
We decided we wanted to try and have a child, I had my Mirena coil removed. We didn't fall pregnant in 2 years so I went to the doctors, they said that it might have been because I had been on warfarin for so long. So my anti-coag clinic swapped me to daltaparin. However they advised me to stop warfarin for 3 days and in the 4th day to start the injections….
On the third day I had a heart attack, I had a clot next to my heart. So I was immediately put back into warfarin and advised never to come off it again. There goes my chance of having children. My husband and I have come to terms with that, it was hard but again something we have had to deal with. So now we have a little rescue dog called Gibbs, he's our child.
After a while I realised that my periods were very, very heavy and painful. So I went to my specialist at St Thomas hospital, Dr Breen, she advised that if children were definitely out of the question then there was a procedure called an ablation that I could consider- she referred me to gynaecology. I met with them, we discussed it and I agreed that it's worth the risk so I went for all the tests.
Upon the initial testing they found something on my left ovary, they thought it was a cyst- after an MRI, they found it was a 27x16cm tumour and it would need to be removed surgically asap. I was treated at the cancer centre at Guys and St Thomas, as you can imagine I was terrified. Not only was I battling the idea of potentially having cancer but I knew they were going to have to take me off warfarin in order to do so. I had the laparotomy in December 2019, they removed my left ovary, Fallopian tube, the tumour and did an ablation all at the same time. The tumour was benign thank goodness and I'm still recovering now.
However that is not the end of my story, on top of all of this, and starting from numerous years ago to the last 2 weeks, I was having 'incidents' or 'funny turns' in my sleep, my husband was terrified and called ambulances each time, I had CT scans and it wasn't a stroke caused by a bleed; but after seeing a stroke specialist, I have been preliminarily diagnosed with complex absence seizures, apparently based on the damage the stroke caused 9 years ago.?!
I have had to surrender my driving licence, give back my Motability car and wait for my next lot of meds to control them, I have another long road ahead of me but I will get there. I know I will, I've come this far and I will continue because I am determined to live my best life.
I have set up a new Instagram page to give advice and document my life and my journey a.p.s_warrior I want it known that APS is something you have and not something you are. It might dictate your mood and some of your actions but is does not DEFINE YOU!! Best of luck to you all in your journeys xxx
Lucy Thomas

Lucy Thomas
I'd always been lead to believe that I wouldn't be able to conceive, as I have Polycystic Ovary Syndrome. My husband and I had been together ten years, and we'd always assumed we wouldn't be able to start a family of our own. However, after returning from Australia to visit our new nephew, we decided we'd like to try for a family, and planned to see a fertility specialist; so it came as a great and welcome surprise that I suddenly fell pregnant in January 2014, without any intervention.
I had a bleed at about eight weeks but, otherwise, the pregnancy was going according to plan. Then, in July 2014, at 29 weeks pregnant, everything changed. During a routine midwife appointment, she was concerned about the size of our baby. I was sent to the hospital for a Doppler scan - we weren't prepared for everything that was about to unfold…
A few days later, I suffered a placental abruption and it was decided that I needed an emergency Caesarean. My husband was called and rushed to be by my side for the birth of our daughter but, after further complications, was told he couldn't stay in the room.
I was put under a general anaesthetic, my husband kissed my forehead, and the next thing I remember is waking up with my sister and husband looking over me. I asked where Isabelle was. My husband broke it to me that Isabelle had died during delivery. She was born weighing 880 grams – which we later learnt was classified as a low birth weight baby or the technical term: IUGR – Intra-Uterine Growth Restriction.
The recovery from the surgery was slow. My legs and abdomen had swollen and I couldn't walk for five days. I stayed in hospital during this time and over the coming days and weeks, I found it increasingly difficult to breathe and stand up straight. I had chest pains that were quickly attributed to referred pain from the operation. As I had never had surgery before, I didn't know what to expect. I trusted that the medics knew what they were talking about and that I would be ok in a few days. Gradually, my condition deteriorated. I felt faint and anxious, I had sharp chest pains, and I couldn't walk at more than a snail's pace, nor straighten my back from a hunched over position.
One morning, three weeks after the surgery, I woke up with a swelling feeling at the back of my right leg. There was no visible swelling, but something was not right. I went to my GP who sent me to hospital as a precaution, but the hospital consultant was keen to send me home - there was nothing visibly wrong with me. I persisted, however. I knew they'd missed something. In the end, he humoured me and said he'd get me a lung scan. I waited in hospital for a further three days for that scan. When it eventually came, it confirmed multiple bilateral pulmonary embolism – blood clots in both lungs.
Fast forward seven months, I have now been diagnosed with antiphospholipid syndrome (APS) and am on lifelong anticoagulation, which is not without its risks, but it outweighs the risks of the alternative. The sad thing is that under current guidelines, so many people have to endure the pain of losing three babies before they will even be considered for testing, despite a simple blood test being all that's needed to confirm diagnosis in the majority of cases.
With increased awareness of APS amongst the medical profession and the wider community, I hope that people can recognise the signs and symptoms and end the needless suffering that so many families have to endure. A woman with APS has an 80% chance of a successful pregnancy if it is correctly diagnosed and treated.
We are lucky to have the support of wonderful family and friends – on Isabelle's 1st birthday, they surprised us with a wonderful video, they'd all come together and made birthday cakes – with friends and family from Australia, New York, Madrid, France and the UK all involved. Not only that, but they had secretly been raising funds in memory of Isabelle:
http://uk.virginmoneygiving.com/SomeoneSpecial/babyIsabelle
Beth Willis

Beth Willis
I was an extremely fit and active 18 year old when I was admitted to hospital with a suspected pulmonary embolism (PE). After a week on heparin injections I was sent home, being told that the symptoms were inconclusive and it was probably pleurisy. I was given some painkillers and no further tests were run. I was keen to get on with my A-levels and so didn't ask any more questions.
My medical history at this point showed I had suffered badly from Glandular Fever at 13, I had been diagnosed with Reynaud's and had a history of skin rashes in hot weather but these things were not looked in to.
So I went off to University only to risk being thrown out because I started fainting all the time. Sometimes I would pass out several times a week and the rest of the time I suffered from terrible dizziness. The concussions I was getting were sometimes quite bad and the University was worried about insurance and health and safety issues with me being there.
I was sent to a cardiologist who put me on different sorts of heart medication, including beta blockers which seemed bizarre for a young woman with low blood pressure. All of the medications I tried made me terribly unwell. One doctor even wanted to put a pace maker in, but luckily my parents were very against this as there didn't seem to be any results that showed there was anything wrong with my heart.
I continued to get worse, still fainting and suffering severe dizziness, headaches and joint pain. I was sent to a neurologist who said (and I quote) "I'm tired of seeing these silly girls with neurotic mothers who are probably just anemic and need some red meat".
Needless to say I didn't go back to see him.
I managed somehow to graduate University but was struggling. I was getting desperate and did some research on a doctor that was running trials on patients with fainting symptoms and I managed to get referred to him.
I was admitted to the National Hospital for Neurology for a week and they ran a multitude of tests which were all inconclusive. They decided it could be a type of Vasovagal Syncope or vertigo and tried some more medication which once again made me sick.
I was struggling with recurrent pleurisy which left me out of action for sometimes months at a time. It was hard to maintain jobs and relationships, and even friends get bored after a while of your excuses. Luckily I have a close family and was able to rely on them, but not ideal as a young woman when all your peers are setting out into the world.
During a very bad pleurisy episode I was taken to A&E and a young student doctor looked at my chart and asked if I'd been tested for lupus which was something I'd never heard of. Tests were set in motion which came back positive and I was then referred to a Rheumatologist who started me on new medication.
Although the fainting stopped and my blood pressure seemed to improve, my other symptoms were unchanged. This was obviously disappointing and I went back to the Rheumatologist several times complaining of terrible chest pains and shortness of breath. Not at any point during this did he order any scans or x-rays, and even told me that I was exaggerating and my chest pains were panic attacks. Once again I was referred to as a 'silly girl'.
I went on to suffer a mini stroke which was terrifying. I began to lose the feeling in the right side of my face, arm and right side of body. Luckily I was rushed to hospital and put on heparin and within a matter of days had regained the use of my right side and suffered no lasting damage.
Even after this no further tests were run and I was determined that things couldn't stay the same.
My family researched other hospitals and found that St Thomas' Hospital in London had a Lupus Clinic. I had to fight my local Primary Care Trust to get a referral and was turned down twice before they agreed to let me be seen in London. By the time my referral came through I was suffering so badly from chest pain and shortness of breath, I couldn't climb a flight of stairs. My joints were agony and my dizziness was so bad every day was a battle.
The doctor at St Thomas' took one look at me, called the nurse for a wheelchair and took me to the emergency room himself. They ran a VQ scan and discovered a mass of multiple PEs. The doctor told me he's never seen such large clots on a patient's scan that was still alive, a terrifying thing to hear.
They ran blood tests and I was diagnosed with high positive APS.
Unfortunately the delay in diagnosis has left me with lung problems that will always be a battle. It's frustrating to think that this could have been avoided with a simple blood test at 18 or if any of the doctors that treated me over that seven year period had picked up on my symptoms.
Since my diagnosis I have rebuilt my life and manage my symptoms as well as I can. Medications such as warfarin and steroids have made a substantial difference as have the fantastic doctors at St Thomas' Hospital.
Meeting other patients through APS Support UK has also played a huge part in helping me come to terms with and understand my condition.
Yvonne Wren

Yvonne Wren
I received confirmation of my diagnosis of antiphospholipid syndrome at St Thomas' Hospital on 21st April 2005. I was 52 years old.
I had never been someone who suffered from headaches but I had had a couple of migraine type attacks through each of my two pregnancies in the 1980s and subsequently once or twice a year after that.
In 2003, aged 50, I suffered one of these attacks at work resulting in a severe headache, photophobia, flashing lights, fragmented vision, impaired memory, inability to process actions and failure to recognise my colleagues.
I thought I was having a stroke (I'm a physiotherapist so I knew the warning signs). My colleagues took me to the local A & E, but by the time I was seen, the symptoms were less and I was sent home. The whole episode was put down to 'stress' as I was in the middle of an extremely unpleasant divorce.
A week later, I was told I had swelling at the back of my eyes, following a routine eye appointment and sent back to A & E. No reason was given.
At this point, one of my oldest, dearest friends, who is a medical consultant, insisted on arranging for me to have an MRI scan. I was extremely reluctant for this to take place, but thank goodness I had one as it identified some lesions in my brain and I was referred to a neurologist. Again, I was extremely lucky that he knew about APS and considered it as a possible diagnosis and referred me to a haematologist.
Finally, 18 months after the major 'migraine' type episode I experienced at work and after numerous blood tests, I was diagnosed with APS. I was also started on large doses of warfarin (an anticoagulant), for life.
The management of the anticoagulation was undertaken by my local hospital anticoagulant clinic. The staff have always been brilliant and very supportive.
Unfortunately, the warfarin meant I had to make weekly visits to the clinic to monitor the INR (International Normalised Ratio), the measure of how quickly the blood will clot because if the dose is not right you could be at risk of clotting or bleeding.
After a year of taking warfarin I had a big win at Bingo and bought my own monitoring machine (£400, although it now costs only £300!) so I can regularly see what the INR is and adjust my Warfarin dose accordingly. This has been totally liberating. I have been everywhere with my Coaguchek XS machine with the knowledge that I can keep an eye on what my blood is doing! Unfortunately, so many things affect the action of warfarin, including green vegetables, some herbs, strenuous exercise, disturbed sleep, some prescription medicines, long distance travel and alcohol, so it is great that I can monitor my blood without time-consuming visits to the clinics and adjust the warfarin doses to keep within my therapeutic range.
When I initially received the APS diagnosis I was relieved that my memory problems were not caused by dementia but worried about the long term implications and the life threatening risks associated with the disease and the warfarin. Around the same time, I was also diagnosed with hypothyroidism and felt fairly exhausted and unwell, still working full time and dealing with the divorce.
It took me a few years of support from the health professionals and my family and dear friends to realise that life can be full and fulfilling. Through all the health issues from the APS, I have recovered from the divorce, dealt with hospital admissions and bereavement but also learnt to manage the condition now and enjoy life; becoming a driver Games Maker for the London 2012 Olympics, learning to play a steel pan with the Croydon Steel Orchestra and travelling extensively to places such as Iceland, Hawaii and Las Vegas, as well as many other activities.
Be a media volunteer
One of our charity's main aims is to raise awareness of APS - both amongst healthcare workers and the general public.
Donate by text
Text APSUK and the amount you wish to donate to 70085.
For example, to donate £20 you would text APSUK20 and send to 70085.